HEAR YE, HEAR YE…
Come enjoy FREE, abridged versions of the work of Shakespeare, Dickens, Cervantes, Washington Irving and other classics outdoors on the green in Old Town San Diego State Historic Park.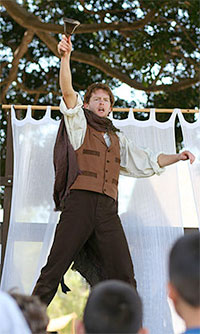 Twice a day, three days a week, a pair of professional actors wheel a custom wagon into the park while ringing a bell to gain audience attention. The wagon holds all their props and acts as a stage during the outdoor performance.
Storytelling on the Green
features Hamlet, Macbeth, Pyramus & Thisbe (from A Midsummer Night's Dream), Romeo & Juliet, and Don Quixote performed in repertory. To keep the program fresh, in October we add Washington Irving's The Legend of Sleepy Hollow and in November and December, A Christmas Carol.
The shows are family-friendly and engaging, showcasing entertaining elements like sword fighting and audience interaction, all the while bringing the poetry and language to life. Audience members are sometimes incorporated into the show, cast in parts like the Wall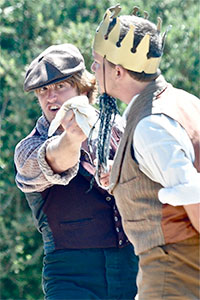 or Moonshine in Pyramus & Thisbe. In keeping with the American Period theme (1840-1872) of the State Historic Park, the actors perform in the Delsarte style, as did the Tanner Troupe, who performed in Old Town in the 19th century. This program has been a tremendous success with students, educators, and park visitors alike and reaches more than 8,000 people each year. For many in the audience, it is their first exposure to live theatre.
Everybody is welcome!
Storytelling in the Green is funded by the donations we receive from generous individuals like you!