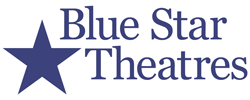 CYGNET THEATRE WELCOMES U.S. MILITARY PERSONNEL, SPOUSES AND CHILDREN AND U.S. VETERANS!
Tickets are available for $20 for U.S. military personnel, veterans, their spouses and children to any Cygnet season production. (Select Seating Section – Excluding Opening Nights.)
To Purchase:
Click here to choose your show, performance date and time.
Choose the 'Select' Seating Section and the quantity of seats. (Discount not valid for Premium Seats)
Select your seats (ignore the discount selections) and add them to your shopping cart.
Enter the code BLUESTAR at the bottom of the shopping cart.
Proceed to Checkout.
If you have questions, please feel free to contact the box office at 619-337-1525 or cygnet@cygnettheatre.com.
Tickets for Troops
Want to provide FREE tickets to military personnel, veterans, their spouses and children? Every $20 donation we receive to our Tickets for Troops program, allows one military member to see a production for FREE.
Blue Star Theatres is a program of Blue Star Families and Theatre Communications Group, with support from the MetLife Foundation.