THINGS YOU NEED TO KNOW
For your enjoyment and the enjoyment of others, we ask that you follow the policies listed below. Thanks.
EXCHANGES
Exchanges can be made with at least 24 hours notice for a $2 fee per ticket, plus any upgrade in cost. Become a Cygnet Subscriber and we will waive the $2 exchange fee! The easiest way to exchange your tickets is to call us at 619-337-1525. Or fill out the form here. You can also email us at boxoffice@cygnettheatre.com. For box office hours click here.
CANCELLATIONS AND REFUNDS
We do not allow cancellations or refunds. If you find yourself with an extra ticket, we can turn that ticket into a donation which you can then deduct from your taxes. (Not available for tickets purchased through outside sources.)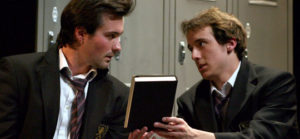 ORDER FEES
Online & Phone Orders: A $4 order fee is applied to tickets purchased online or over the phone. This is just one fee for the entire order, not per ticket. Purchase your ticket in person at the box office and no fee will apply! We are not able to hold tickets without payment.
Subscription Orders: A $5 subscription order fee applies to all subscription orders. This is a one time fee per order and not per ticket or per subscription.
Exchanges: A $2 exchange fee is applied to each ticket that is exchanged. There may also be an additional upgrade in cost for your exchange if the new tickets are higher priced.
Mailing: We are happy to mail your tickets to you for a $2 mailing fee.
OUTSIDE FOOD OR DRINK
We do not allow food or drink into the theatre unless it is purchased from our concessions. If you are coming from dinner and have left overs, we are happy to hold them at concessions for you to pick up after the show.
CHILDREN UNDER 5 YEARS OF AGE
Out of respect for fellow audience members and the performers, children under 5 years of age are not permitted in the theatre during performances.
PHONES AND OTHER ELECTRONIC DEVICES
Please turn off all electronic devices including phones, watches, computers and tablets before the performance. The use of Cameras and Recording Devices is strictly prohibited during performances.
LATECOMERS
We always do our best to seat our patrons even when they are late. We know that parking and traffic can sometimes get in the way of punctuality. Latecomers will be seated in the back of the theatre at the discretion of the House Manager. They may take their assigned seats at intermission.